Please follow, like & share us:
Tools:
Floor Jack/Lift
½ in. Impact Gun/ ½ in. Breaker Bar
21 mm socket
Tire Machine
Balancing Machine
½ in. Torque Wrench
Digital Air Gauge
Spray Bottle
Specs:
Tire: Goodyear Eagle Touring 245/45/19 OEM
Tire Pressure: 45 psi
Torque Spec for the Lug Nuts is 129 lb/ft
IMPORTANT:
The old spec was 140N.m. (103 lb/ft)

The NEW spec is 175N.m. (129 lb/ft)
The Tesla Model S is the way of the future, and one way or another were all getting a little more used to it as we see many more car companies leaning towards electric vehicles. From its sleek aero-dynamic design, to its luxurious yet simple and stylish interior, let's not forget to mention the instantaneous power delivered by the high torque electric motors! So when I said this is "Not your Average" tire swap and balance, I meant it.
Along with the development of new technology and integrating full electric cars into the market, Tesla went above and beyond in my opinion with there simple yet useful addition to the engineering of there tires. A piece of flexible acoustic foam insulator approximately 6-7 inches wide and 1 ½ inches thick is glued to the inside of the tire. This reduces the noise that you would hear the tires make from inside the cabin of the car. Considering the car has no naturally aspirated motor or any fuel powered motor for that matter, it does not emit pollutants or noise from an exhaust so it's essentially silent except for road noise and some sound from the electric motors when you step on it.
Approved dealerships will recommend or insist you need to purchase and replace the foam inserts but IT IS NOT NECESSARY ! If you are careful and you gently slice across the foam, you can than peel it away, CAREFULLY, from the old tire and adhere it to the new.
Once you cut across the width of the foam, you can stick your hand underneath one side and begin to pry up paying attention to not pull too hard and rip a portion off. This will make it extremely difficult to install on the new tire.
Rotate the tire while pulling up the foam in sections to optimize the prying and to keep it a cleaner more successful operation.
The hard part came when attempting to adhere the peeled foam onto the new tires. I first tried to use Trim Adhesive which made a mess and didn't stick for sh*t. After cleaning up the mess from the adhesive, we went a more everyday route and turned to the trusty super glue. The inside of a brand-new tire is extremely slick and just like the outside of the tire, one of the only things that will stick to them is the pavement and that's not always a given!
We turned to Gorilla Glue because of it curing process. It practically will stick to anything and with the application of a little bit of water in the form of just a light dampen, the glue will expand 3 to 4 times its size and create an extremely strong bond.
Before applying the glue, I scuffed the inside of the tire to assure it was free of any debris or oils. Two thin lines across the entire inside radius of the tire 1-2 inches off centered on each side is how I chose to apply the glue.
In addition to the glue comes the dampening process. I chose to use a spray bottle filled with water to lightly spray the backside of the foam. Once your glue is in place and the foam is dampened, you're ready to re install. If you were able to remove the foam cleanly, you will see upon installing that it looks like there's an extra 1-2 inches. Force the two sides together until they touch and then go around the tire firmly pressing and positioning the foam. I took a short video of me installing the Acoustic Insulator that I will include.
The curing process usually takes 1-2 hours, but I gave it 30-40 mins, checked and began installing the tires to the wheels. Once I was done installing the foam on the last tire the first one was ready to go. The rest is straight forward.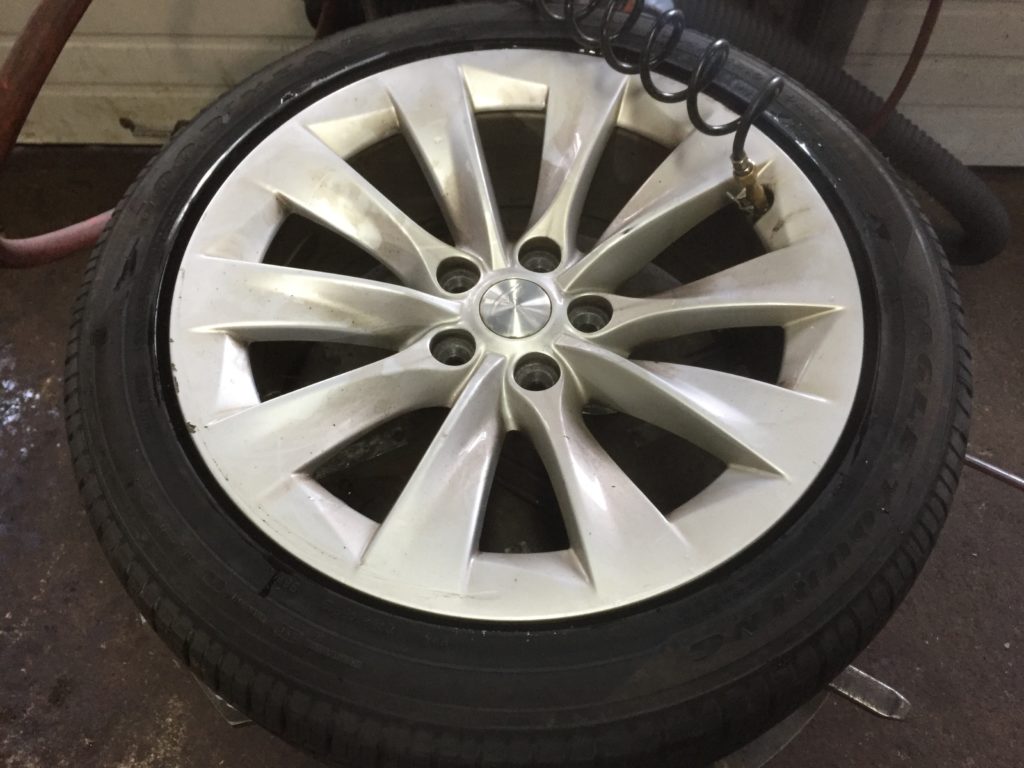 Continue your tire change and balance as you would any tire, paying attention to not damage the wheel or tire pressure sensors TPMS. Once you've got all your new tires on there wheels it's time to put them back on the car. When doing this, start and tighten the lug nuts down by hand, once all 5 are on it's time to torque them down to its correct specs.
There was a TSB Trouble Service Bulletin for Model S vehicles regarding there torque specs on lug nuts. The old spec was 103 lb/ft which has been updated to a tighter 129 lb/ft. Make sure to check and double check if ever you are ever unsure!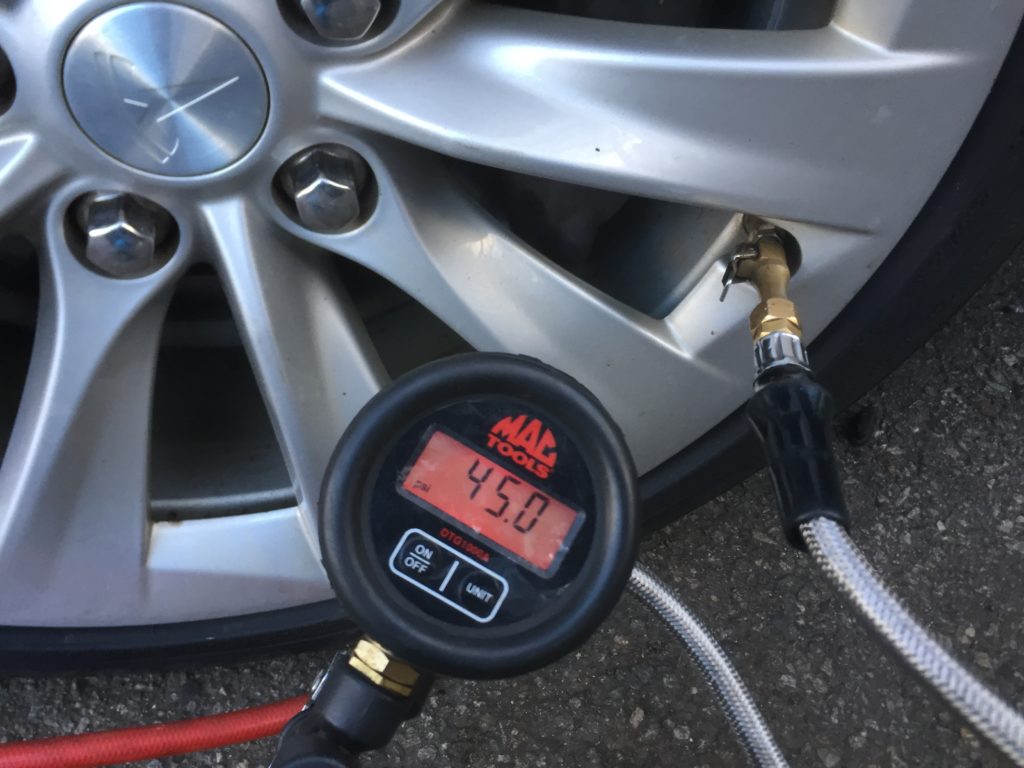 Once the wheels are on and the car is on the ground, you're ready for takeoff! Not just yet. Remember to set your Tire Pressure on all the wheels. The Model S calls for 45 psi in all 4 tires, higher than your normal everyday car which usually calls for 32-34 psi. Just another thing that Tesla had to re-engineer but this time it looks like Tesla is really putting time into some important details when it comes to there high-end electric sports cars.
Please follow, like & share us:
Hello internet surfers, this is my first blog post of many. I look forward to taking steps towards documenting my journey working on cars to playing with cars, taking trips to car events with my buddies and so much more. I also have a love for photography and film which I plan to put on display for the world to see. I'll be showing many tutorials on my YouTube page and im also looking forward to purchasing my next project car to document. The plan is to build an e30 from the ground up and completely modify the chassis and exterior to give it a fresh new look. Lets not forget to mention the motor swap I intend on performing but we'll get to that later.
In the mean time Subscribe to my website or follow me on any of my other platforms to stay up to date with the projects and the progress of my builds/blogs!!
Please follow, like & share us: